Exclusive Access and Benefits for American Express Cardmembers

How to Redeem
Step 1:
Select the event you wish to attend and follow the usual steps to purchase your tickets. When you are prompted to select your payment method as American Express Card, look for the option to use Membership Rewards points to purchase tickets right below it. You MUST check the box that says,
YES, I would like to redeem Membership Rewards points for this order.
At this point your American Express Card will be charged for the total dollar amount of your ticket purchase.
Step 2:
You will have to enter your 4-digit security code in order to verify your point balance. Please ensure that the 4-digit security code entered matches the American Express Card you have on file with Ticketmaster.
Please Note: Only the Basic Cardmember's account number can be used for this transaction.
Step 3:
Once the system has accessed your Membership Rewards points balance, you will be given the option to choose the amount of points you wish to apply toward the order. The actual number of Membership Rewards points needed to redeem this reward will vary based on the price of the ticket(s) you select to purchase.
Step 4:
You will receive confirmation once your transaction is processed. The confirmation will verify the number of Membership Rewards points deducted, your remaining balance and the corresponding dollar amount that American Express will credit to your account.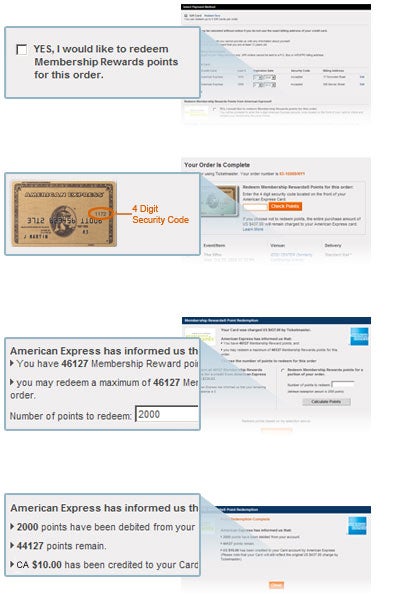 Additional Terms and Conditions for Membership Rewards Ticketmaster Redemptions
To Qualify:
You must charge your ticket purchase to an eligible American Express Card enrolled in the Canadian Membership Rewards program. Corporate Cards are not eligible.
Your American Express Card account(s) must be in good standing.
Unsure of your Membership Rewards points balance? Please click here or contact American Express at 1-800-668-AMEX.
You must have available the minimum number of Membership Rewards points indicated to redeem for this purchase.
Your American Express Card account will be charged for today's purchase. If you qualify, American Express will debit Membership Rewards points from your program account and issue a credit for the corresponding dollar amount to the Card account charged for your ticket purchase. Credits may not appear during the same billing period as the charge for your ticket purchase. If the points redeemed do not cover the entire amount of the charge for your ticket purchase, the charge for the balance of the purchase will remain on your Card account. Ticket purchases failing to qualify for Membership Rewards point redemption will remain charged to your American Express Card account and are subject to the venue's and Ticketmaster's no refund/no exchange policy.
Permitted returns of Ticketmaster tickets that result in a credit on your Card account will not automatically result in a credit to your Membership Rewards ® account. In order to retrieve a Membership Rewards credit, please call the Membership Rewards program.
If you use an eligible American Express Credit Card, please note that a Membership Rewards redemption credit to your Card account is not considered a payment. You must still make a separate payment in accordance with your Cardmember Agreement.