Live Nation Entertainment
Live Nation Entertainment is the world's leading live entertainment and eCommerce company, comprised of four market leaders: Ticketmaster.com, Live Nation Concerts, Front Line Management Group and Live Nation Network.
As the world's largest live entertainment company, we offer a broad spectrum of unique and engaging career opportunities. Visit any of our offices or venues and you'll find a diverse mix of passionate employees, helping fans around the globe connect with the artists, teams and events they love.
A career at Live Nation Entertainment will challlenge and engage you. The pace here is fast, the atmosphere is fun and passion is a common thread that ties us together. As a global and growing business, we can truly offer a world of opportunities to expand your skills and develop your career.
Alert: Ticketmaster Canada does not post career opportunities on Kijiji. Please do not send any personal information in response to any such ads.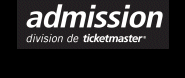 Organization
Location
Job Title / Description